Doggie Daycare
The Pet Spot's daycare facility is the largest in Cincinnati, with over 18,000 square feet of indoor play space and over 10,000 square feet of outdoor play space.
Daycare is a place for customers to drop their dogs off while they are at work. It is a fun alternative to leaving your dog at home either alone or in a crate for an extended period of time. Daycare is also available to our boarding customers whom would prefer their dog socialize during the day.
Safety First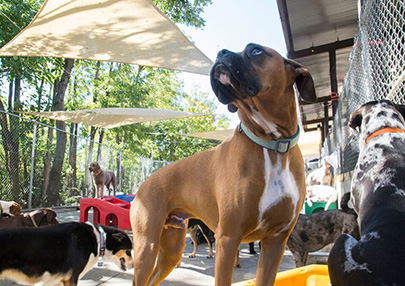 Daycare is a place for social dogs to come play and have fun. It is not a place for aggressive dogs to learn how to be social. All dogs that attend The Pet Spot daycare have completed a 4-hour evaluation to ensure that they are not aggressive. Furthermore, all dogs must be current on all shots including bordatella, and must be on appropriate flea control and worming medicines. These provisions are in place so you don't have to worry about your furry friend coming to daycare and getting hurt or sick. We do everything possible to ensure that your dog has a clean, safe, and fun environment to play. And trust us, they do have fun!
Playgroups!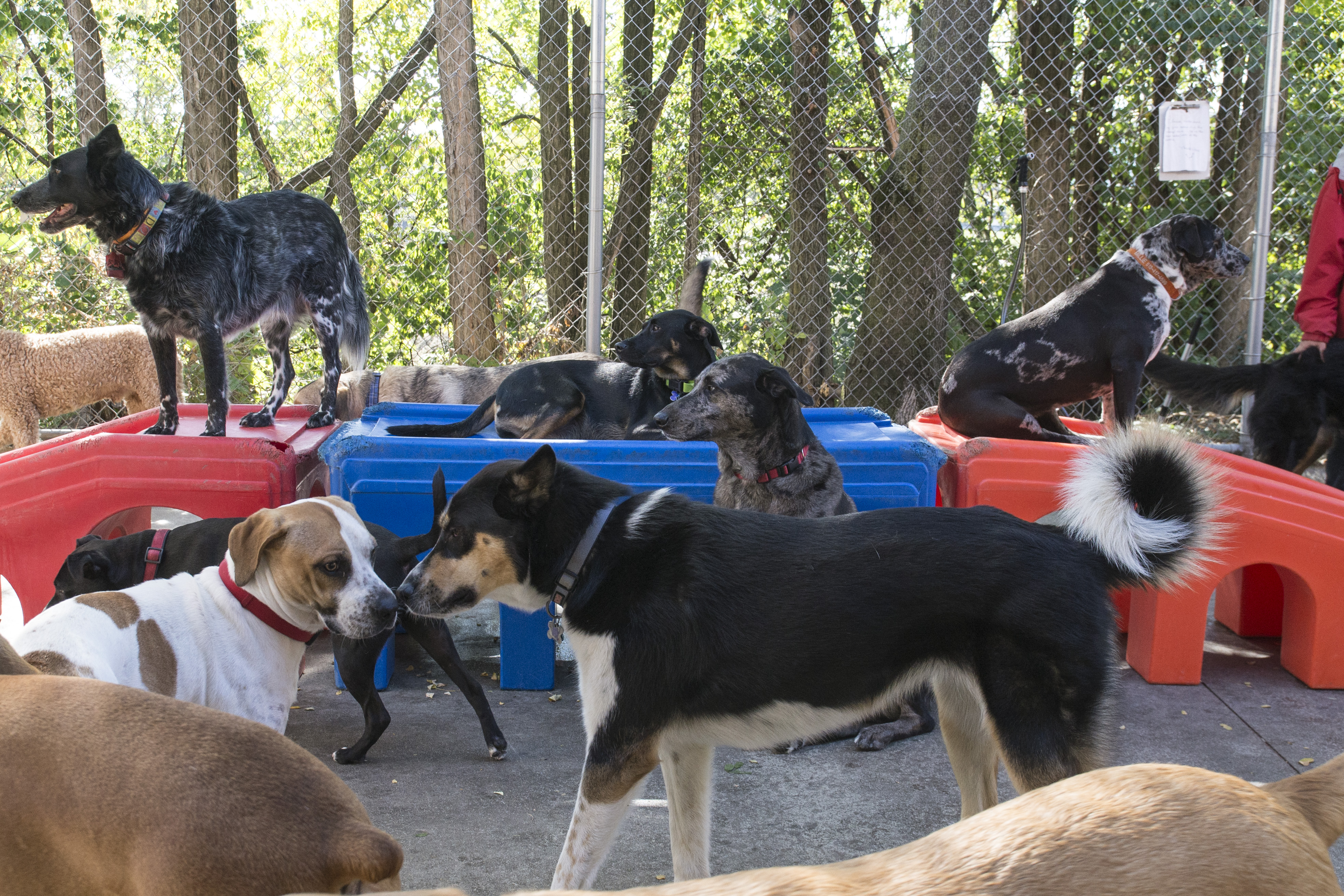 The Pet Spot daycare is quite different from other daycares. Instead of having as many as 100+ dogs playing in one area, we divide our daycare dogs into much smaller, more manageable playgroups. Our 28,000 square foot facility can be divided into as many as 11 separate daycares. Therefore, we can create 30-40 dog playgroups based on size and/or play style. Each play group is managed by The Pet Spot daycare attendants at all times, so rest assured your dog will always be supervised.
Come Rain or Shine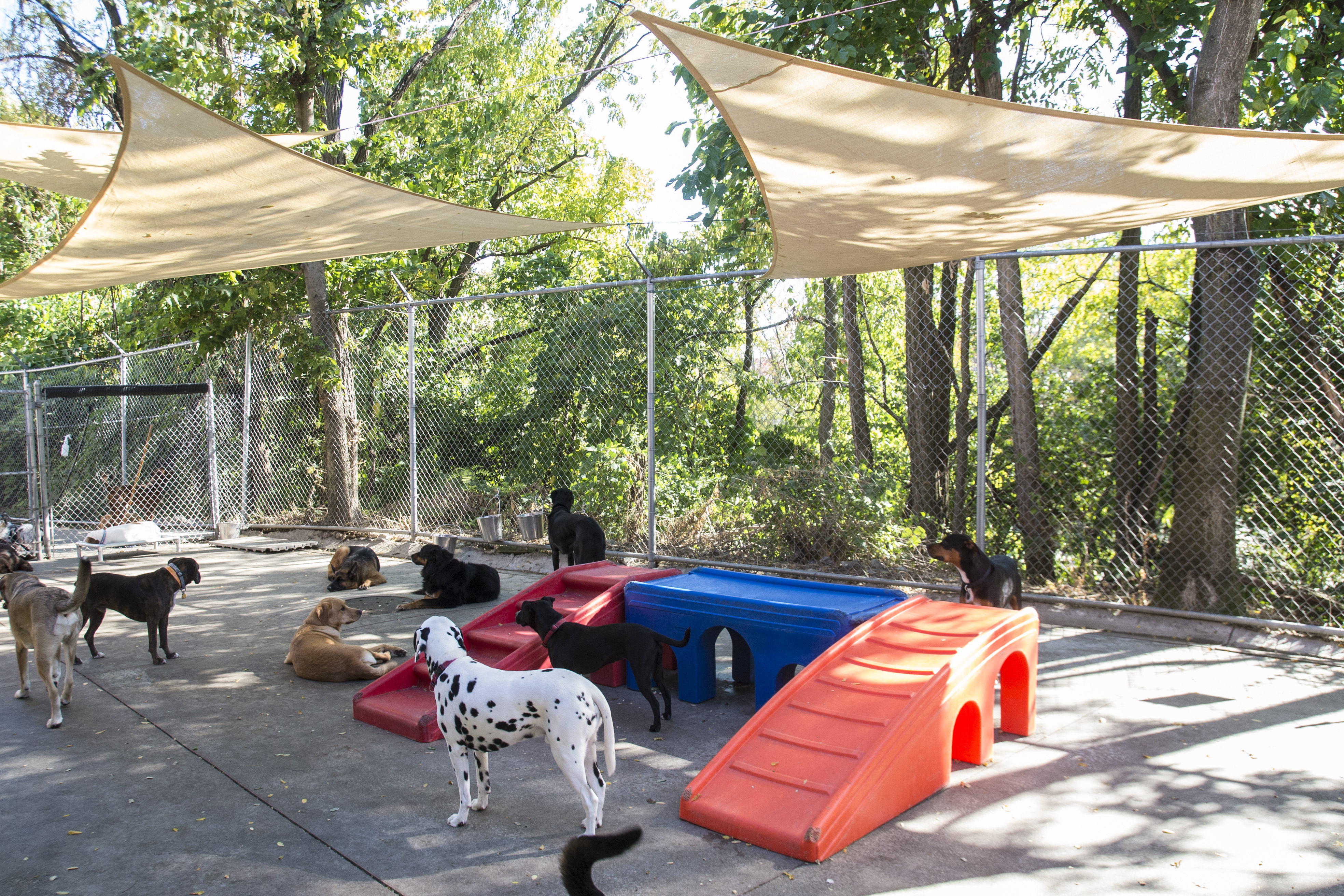 In the warmer months, your dog can take a dip in one of our bone-shaped pools or play in the comfort of our temperature-controlled daycare. In the colder months, your dog can enjoy the warmth inside while playing on one of our slides or other indoor toys. Regardless, we can assure you that your dog will have fun while they are with us.
Daycare Benefits
Dogs are social animals by nature so all dogs can benefit from daycare! Younger more hyper puppies and dogs benefit from having an outlet to socialize and use up some excess energy. Adult dogs benefit from having a place to come socialize and exercise. Daycare gives older dogs a place to exercise and remain active. After a few days in our daycare, we are confident you will see the benefits as well!
Regardless of whether you bring your dog to daycare once a week or everyday, we are sure your dog will enjoy it. Even better, you will enjoy the peace and quiet you'll get when you have a tired pooch!
Interested in Daycare? Please call to get your info in the system for the daycare evaluation: 513-351-7768.
Must be Current on All Shots; Rabies, Bordetella and Dhlpp* and Spayed or Neutered if older than 6 months.
Eval Times are M-F 7am-9am & Saturday 8am-10am.
*Must have the complete series
Daycare Package Rates
1 Dog Rates:
| | |
| --- | --- |
| Daily | $23.00 |
| 5 visit pass | $110.00 |
| 10 visit pass | $210.00 |
| 20 visit pass | $400.00 |
| 40 visit pass | $760.00 |
| 80 visit pass | $1,440.00 |
2 Dog Rates:
| | |
| --- | --- |
| Daily | $30.00 |
| 5 visit pass | $145.00 |
| 10 visit pass | $280.00 |
| 20 visit pass | $540.00 |
| 40 visit pass | $1,040.00 |
| 80 visit pass | $2,000.00 |
After 2 dogs, each additional dog is an additional $4/day.
Packages do not expire and can be used anytime!
Daycare Hours
Monday–Friday        7:00am-7:00pm
Saturday                  8:00am-6:00pm
Sunday                    10:00am-6:00pm
Required Vaccinations:
Dogs: DHLPP, Rabies and Bordetella & flea free
Please have your veterinarian fax your pets' shot records to us as soon as you make your reservation. Our fax number is (513) 366-2192. Pets will not be accepted until proof of vaccinations is provided.